Duncan Epping at Yellow-Bricks wrote a excellent article on how to unload the vCD Agent using the command line.  I thought I would write one on how to do this through the VMware vCloud Director UI.  The benefits of carrying out this task through the UI allows the administrator to avoid breaching corporate security polices by enabling SSH, or having to log-in directly to the server console.
1) Login to VMware vCloud Director
2) Click Manage & Monitor
3) Expand vSphere Resources
4) Select Hosts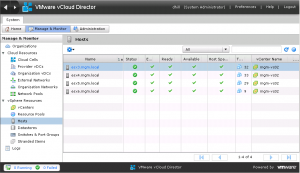 5) Right Click the host you want to uninstall the agent on
6) Select Disable Host – Once completed there will be a red circle with a X displaying under Enabled to denote that the host is disabled.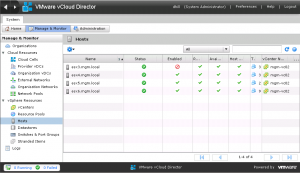 7) Select Redploy all VMs (This will move all your VM's off this host and enable Maintenance Mode)
8 ) Select Unprepare Host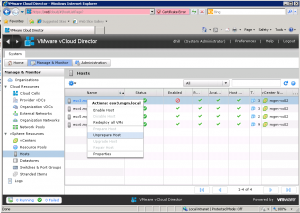 9) Once the host agent has been removed, the host will show a red circle with a X under ready.  This denotes that the host does not have the necessary vCD agents installed and running.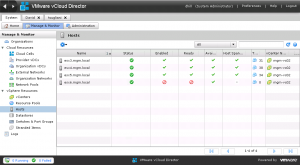 The agent is now uninstalled from your host.
You can re-deploy the agent by simply selecting Prepare Host.